Have you ever wished that you had extra time in your day for self-care at home? And with self-care, do you ever wish that you could skip the traffic and hours of waiting in salons and various offices for various treatments? Well, you most certainly can! Technology and home devices have come such a long way, you can do so many things at home that once could only be done in a spa setting.
I want to share a few of my favorite at-home self-care products with you as I fully believe in practicing self-care, and it is often tough getting out and about. Whether it's because of crowds, sickness, or kids, sometimes I just prefer to relax at home while doing a beauty treatment.
This post may contain affiliate links. If you follow the links, I may earn a small commission at no cost to you. I fully support the products that I link to. 
What is Self-Care?
To get started, I want to go over what self-care actually means. Some people consider it taking a long bubble bath or reading a book. While those are ways to care for yourself, it also goes beyond the 'typical' treatments. Indulging in self-care means that you regularly take the time for yourself and treat yourself. I enjoy doing beauty treatments at home that give me extra confidence and a well-being boost.
Ways to Practice Self-Care at Home
Bubble and Epsom Salt Bath (add candles, a good book, and a drink to fully relax, oh, and a bath pillow! Bath pillows are just heavenly).
Beauty Treatments are my favorite way to practice self-care at home, trying out new beauty treatments. Face masks are an inexpensive way to enjoy this, you can even make your own!
Fitness This is a form of care that benefits you in many ways. Make time to get a short walk or workout in you'll feel so much better. Fresh air is a plus too if you have a nice yard to walk around.
Rest Your Mind Here is a great post on ways to give your mind a break from the SOPBLOG.
Practicing self-care at home is so important and beneficial to your health. It's not just about sitting around drinking or doing your nails, it's having time to yourself and caring for YOU.
Self-Care At Home- My Favorite Products
Without further ado, here are some of my absolute favorite products for practicing self-care at home.
If you want a quick and easy way (pain-free) to whiten your teeth, look no further. You've probably seen ads online for Snow, and I must say, I was a bit skeptical to try it too. Alas, I am glad that I did order it. The kit is so easy to use (even a Caveman can do it!) haha but really. It's easy and even plugs into your phone! So, you plug it up, put the gel on your teeth, wear the mouth guard for nine minutes a day- and bam! Beautiful pearly whites. It also comes with a teeth shade chart which is pretty cool so you can track your progress that way too.
Okay, I'm not gonna lie, this thing looks freaky! I may have scared my toddler and my husband when they walked in the room seeing me wear this thing. It's a really neat facial mask that you can wear and it has red, blue, green, or all three at the same time, LED lights. Different lights provide different treatments, this is a cool gadget to have around for acne, wrinkles, etcetera. It's pain-free and comes with an eye mask if you're worried about lights bugging you. I will say it seems a bit much with all three lights going on at once, I would recommend the eye mask during that treatment.
If you're anything like me, you may have never heard of a vibration plate before. I had not until I used one after my Strawberry Laser Lipo experience, you can read about that here.  Vibration plates are becoming more common in gyms, and have been used for certain physical therapies for a while. This plate is easy to plug in and go, and easy to push under the bed for quick storage. It has manual, remote, and different settings for different treatments. This can replace or add to the physical activity that you already do- and it helps with cellulite!
The Nushape Lipo Wrap. You can make payments with Afterpay so that breaks it up and makes it easier to do. This belt works similarly to the belts that are for use in an office or spa and comes with an ebook guide about light therapy. The belt can aid in weight loss as well as several other treatments. It feels great while wearing, a nice relaxing therapy.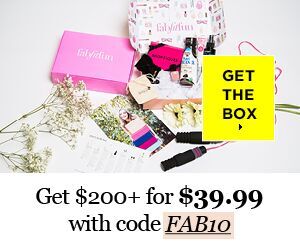 This is another product that you have probably seen numerous advertisements for online. And for good reason! This box is AMAZING! It's a quarterly subscription so you receive a new box each season. Here are the deets on this awesome box. So, you can either subscribe seasonally ($49.99/season) or annually ($179.99). I will say that the annual subscription does offer the best perks. When I signed up for the annual, I received a microdermabrasion device that retails for $199, free for signing up annually. I believe they do these offers regularly.
Also, with the annual subscription, you get to customize your entire box and you get early access to add-ons. Each box for both subscriptions contains up to eight products (not samples!). Add-ons are deeply discounted items in the shop that you can add before your next box ships.
I've been a member of Fab Fit Fun for quite a while, and they do send some pretty nice stuff. I've got a cool glass water bottle with a turquoise cover, name-brand beauty, and make-up (full-size) products, blankets, slippers, Bluetooth speakers, and so many awesome products.
It's a fun way to practice self-care at home and a nice treat when the box shows up each season. I've found many new favorite products that I wouldn't have otherwise thanks to this box.
Another fun box that is smaller and more beauty-focused is the Allure Beauty Box. You can read my review of it here.
Wrapping It Up
At-home self-care is a great way to unwind and pamper yourself. It is a way to heal your body and your mind. Even if you can't get away from the house for a long period of time, you can still take care of yourself at home. If you want, the kids can join in too! My girls love doing face masks and their nails. It's a great way to have fun together and bond while relaxing.
Comment below if you've tried any of these products and let me know how you like them. Take care!
Innovative Self-Care Hacks: Unconventional Ways to Recharge and Renew